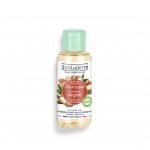 Evoluderm Nourishing Beauty Oil with Argan Oil 100ml
€7.75 Inc.VAT
To fight against dryness and skin ageing, the Nourishing Beauty Oil with Argan Oil, formulated with 99.8% natural origin, ensures optimal hydration throughout the day. Revitalized, the skin is sublimated and enveloped in a satiny veil. Also used on dry and devitalized hair, it nourishes and strengthens while leaving it silky and much shinier. Vegan and made in France, and dermatologically tested, Evoluderm guarantees you an exceptional oil to sublimate your skin and hair.
OUR ADVICE
How to apply this oil?
– Use on face and body: Gently apply this oil to your skin and massage in with gentle circular movements. For an extra dose of care, use this oil after your usual scrub and wrap yourself in the soft, gentle fragrance.
– Use on wet or dry hair: Apply a few drops to the lengths and ends. For intense nutrition, leave on for 30 minutes to 1 hour, or even overnight. Then shampoo and rinse thoroughly with clear water.
PROVEN RESULTS :
Moisturises the skin and makes it more comfortable: 91
Revitalizes the skin: 86
Fight against skin dryness: 91
Softens the skin: 91
Moisturises dry and devitalized hair: 91
Softens hair: 95%.
Softens hair and makes it silky: 86
Hair looks shinier: 95%.