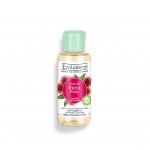 Evoluderm Pure Castor Oil 100ml
€7.60 Inc.VAT
Obtained by cold pressing, Pure Castor Oil* is characterised by its high viscosity. Rich in fatty acids, it strengthens and regenerates the hair fibre. Protected, the hair is revitalized and more resistant. This 100% natural vegetable oil also reduces eyelash loss and densifies the eyebrows. Ideal for stimulating nail growth, strengthening nails and combating breakage, it meets all your needs. Vegan, made in France and dermatologically tested, Evoluderm guarantees you an exceptional oil for a real moment of well-being.
OUR ADVICE
– Use on dry hair: apply a few drops and leave on for 30 minutes to 1 hour, or even overnight. Then shampoo and rinse thoroughly with clear water.
– Use for eyelashes and eyebrows: Put 1 to 2 drops of oil on your finger and gently apply to the roots of the eyelashes and eyebrows.
– Nail use: Apply just the right amount to your nails and massage them, including the cuticles, until they are completely absorbed.
PROVEN RESULTS :
Moisturises and nourishes hair: 100% .
Repairs, protects and regenerates hair: 95%.
Softens, smoothes and beautifies the hair: 100%.
Strengthens the hair fibre: 100%.
Fights breakage: 95%.
Strengthens, repairs and makes nails more resistant: 100%.
Strengthens and reduces lash loss: 100%.
Densifies eyebrows: 95%.