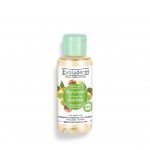 Evoluderm Regenerating Beauty Oil with Jojoba Oil
€7.75 Inc.VAT
Soothing, Regenerating Beauty Oil with Jojoba Oil, formulated with 99.8% natural origin, relieves and eliminates feelings of tightness while improving the skin's comfort. Ideal for rebalancing the sebum production of the epidermis and scalp, it is also suitable for weakened hair thanks to its revitalising action. Repaired and protected, the hair regains its shine and softness. Vegan and made in France, tested under dermatological control, Evoluderm guarantees you an exceptional oil to sublimate your skin and hair.
OUR ADVICE
How to apply this oil?
– Use on face and body: Gently apply this oil to your skin and massage in with gentle circular movements. For an extra dose of care, use this oil after your usual scrub and wrap yourself in the soft, gentle fragrance.
– Use on wet or dry hair: Apply a few drops to the lengths and ends. For an intense repair, leave on for 30 minutes to 1 hour, or even overnight. Then shampoo and rinse thoroughly with clear wate
PROVEN RESULTS :
Moisturises, nourishes and revitalises the skin: 100%.
Protects and regenerates the skin: 95%.
Tones and firms the skin: 95%.
Improves the radiance and comfort of the skin: 100%.
Moisturises, repairs and softens hair: 100%.
Repairs and protects hair: 95%.
Coats and strengthens the hair fibre: 100%.
Protects split ends: 100%.
Enhances and adds shine to skin and hair: 100%.